International Angelic Reiki Conference 2016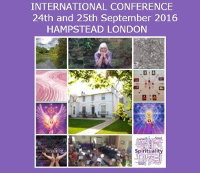 24th and 25th September 2016
HAMPSTEAD LONDON, UNITED KINGDOM
We are very pleased and excited to announce our second International Angelic Reiki Conference, the first one of which was held in 2010. The 2016 International Angelic Reiki conference will take place on the 24th and 25th September and will be held in London and as many of you will know London, like many magical places and sacred spaces around the world, is energetically underlined by ley lines and points of energy invisible to the outer eye.
Many of us are familiar of the beautiful natural space of Hampstead Heath and underlying it is a sacred energy grid to some known as the Canterbury line that link Boudicca's Mound with Canterbury and Palace of Westminster also connecting to Wimbledon ,Westminster Abbey and Southwark Cathedral.
The nine energy of 2016 energetically will be asking us to look at wisdom and integrity in all levels of our lives basically inner and outer truths ,although the planets and the angelic are supporting us there may be some areas that will challenge us to anchor our consciousness in the light, allowing us to play our part in the earth energy shift.
This conference is timely with the shifts in humanity asking us to come together and unite all Spiritual practices ,this conference also coincides with Autumn Equinox energy , know as a time of gratitude , balance and also an opportunity to release all that no longer serves us. We are currently in the process of finalizing topics and confirming. We'll know Guest speakers to join Christine Core in bringing a spiritually encompassing weekend.
In addition to Angelic Reiki Attunments & Angelic Reiki Healing the topics covered will included the following;
– Planetary / Earth Healing 
– Crystals 
– Ancient Rituals
– Sound 
– Angelic Kingdom 
– Divine Feminine 
– Symbology 
– Shamanism 
– Inspirational Talks
– Meditations
– Dream Work
We are hoping to announce the finalized schedule of renowned Guest Speakers and Topics by the latest Mid March .We are really looking forward to having all you join us on this Truly Exciting event coming together with participants uniting from all comers of the world in spiritual practice
Venue information: We are very pleased to announce the Venue for the International Angelic Reiki Conference 2016 will be held in the heart of London at Pax Lodge Hampstead ,one of four international centres for the Girl Guides with the motto of Peace and Light.
Pax Lodge
12c Lyndhurst Road
Hampstead
London
W3 5PQ
Recommended Accommodation: These are recommendations based on accessibility to the Venue , early bookings is highly advised . Hampstead is easily accessed from all parts of London please check Travel information attached with details of nearest Tube & Train station and walking distances to the venue from each.
www.premierinn.com/gb/en/hotels/england/greater-london/london/london-hampstead
Average Room Price £59 per room
Distance From Pax Lodge 5 min walk.
www.wagggs.org/en/our-world/world-centres/pax-lodge
Average Price £28 to £48 per person limited availability
Accommodation on Site
www.lagaffe.co.uk
WAverage Price £75 for Single and £99 for Double
Distance From Conference Venue 10 min walk
www.travelstay.com
Hampstead Suites
Average Price £52
Distance from Pax Lodge 15 min walk 
Stall Exhibition details: There will be a number of stalls offering Crystals ,Gem essences,Jewellery , Spiritual Art,Sacred Tools and much more sold by spiritual people who are connected to there heart. We are inviting anyone that would like to hire a stall to offer service's or products to get in touch as soon as possible on the email below for consideration.
Booking Details
Date: 24th & 25th Sep 2016
Time : 10am to 5.30pm both days
Exchange: £145 deposit per person ( £50 required to secure place, final payment due two months before Conference )
Early Bird offer 20% Discount booked before 31st March 2016
Exchange £116
To secure you place please or receive further information please email: intlangelicreikiconference@gmail.com
In addition to the conference there will be additional activities to partake in which will be optional. We are currently in the process of organizing a group dinner for Sat Evening, Exploration of Ley lines / Ancient Sacred sites on Friday prior to conference and there will also be a sacred ceremony and earth healing at Budicca's mount on Saturday.